02-03-2014, 10:00 AM
Super Moderator

2004 Xterra

Join Date: Jun 2005

Location: California

Age: 49

Posts: 12,311
Nissan Group Reports January 2014 U.S. Sales
---
NASHVILLE, Tenn. – Nissan Group announced today total U.S. sales for January 2014 of 90,470 units, an increase of 11.8 percent compared to last year.
Nissan Division highlights:
Nissan Division set a January record with 81,472 deliveries, an increase of 10.4 percent over the prior year. The Division has posted a monthly record in 10 of the last 11 months.
Rogue crossover sales also set a January record, with 13,831 deliveries in the month, an increase of 54.5 percent. January marked just the second full-month of sales for the all-new 2014 Rogue, which is now being built at Nissan's Smyrna, Tenn. assembly plant.
Sales of the all-electric Nissan LEAF set a January record and increased 92.6 percent to 1,252.
Nissan Altima sales totaled 22,515 units in January, an increase of 4.9 percent.
Sales of the Nissan Frontier pickup rose 87.9 percent to 4,931 units.
Nissan Juke sales set a January record at 3,442, up 45.8 percent.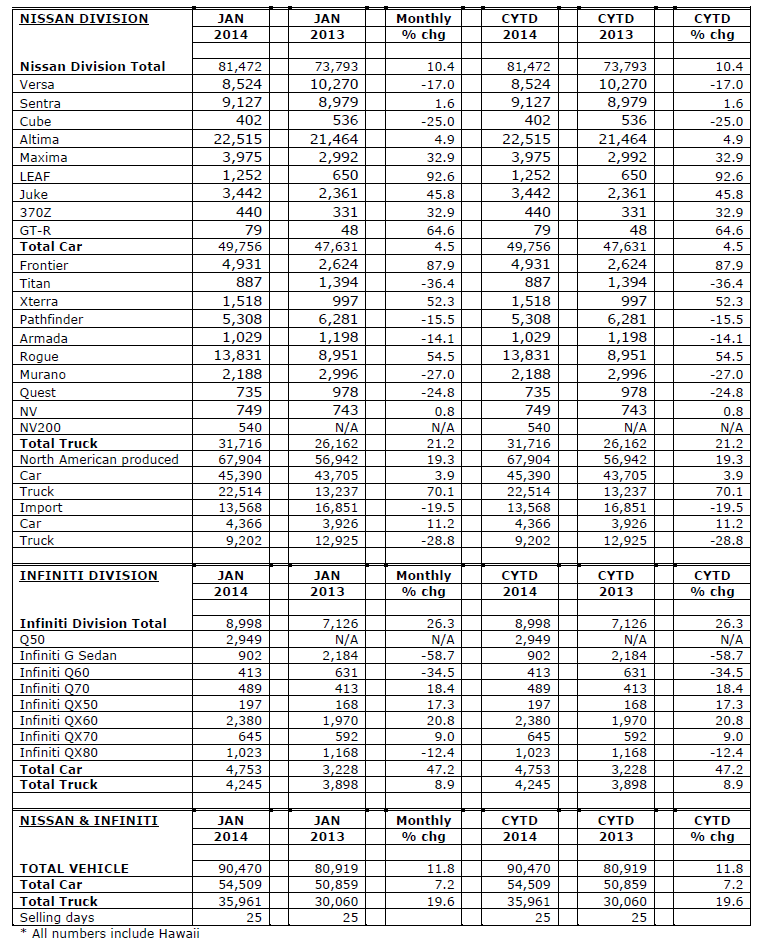 __________________
Need A Repair Shop?
Find local automotive repair shops in your area.
AutoCodes.com Shops